Siliguri
The gateway to the North Eastern Himalayan Region situated at an altitude of 329 ft. The places of tourist interest are Mahananda Wild Life Sanctuary consists of 300 Botanical Plants and declared asWLS in 1976(129.04 sqkm,18kmfrom Siliguri), Madhuban (beautiful park near Sukna), Salugara (Tibetan village with a monastery), Kalijhora (picnic spot, 27km from Siliguri) Sevoke (Sevokeshwari Kali Temple, Coronation Bridge, Rambi).
Latpanchor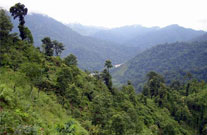 41 km from Siliguri through the dense forest of the hilly region of Mahananda WLS one can reach Latpanchor (3400ft). Visit the sunrise point Sansaridara from where one can see clearly the view ofTista River, Kalimpong- Algara­Lava- Kurseong- Darjeeling hilly areas and the plains of Terai. Nambong falls and the lake 0' Namthing (4250ft.) enables you to observe the life style of a rare species-- a little version of crocodile-- the Salamander in its crystal clear water.This species can only be seen at Namthingpokhri and Jorpokhri in this region other than North America.
Darjeeling
Welcome to India's "Queen of hills" surrounded by the most gorgeous snow peaks in the world. A land of infinite beauty-- the place of Dorjee (the mystic thunderbolt of the Lamas). Situated 86 km from NJP railway station, the joyride by Toy train, the Mall, Padmaja Naidu Himalayan Zoological Park, Himalayan Mountaineering Institute, Tibetan Refujee Self Help Centre, Gorkha Stadium, Japanese Temple, Lalkothi, Dhirdham Temple, Ava Art Gallery, Tiger Hill, Ghoom Monastery, Batasia Loop and War Memorial, Lebong Race Course (Highest and Smallest in the world), Mirik Lake, 22km long Puttabong Takvar Tea Garden (Longest in the world), Rock Garden, Ganga Maya Park, Rangeet Valley Ropeway (2km long journey to Takvar), Takdah, Lepchajagat, Trek to Sandakphu, Phalut, Rimbik, Sreekhola, Dhotray are the places of tourist interest at Darjeeling.
Sandakphu-Phalut (The Singalila Trek route)
Maneybhanjan-Tonglu via Chitray, Tumling (11km) - Gairibas (9km) - Kalipokhri (4km) ­ Bikebhanjan (4km) - Sandakphu (4km) - Phalut via Sabargram. You can come down to Darjeeling through Rammam River Valley, Sammenden, Rammam, Sreekhola, Rimbik, Lodhoma, Jhepi, Bijonbari.
Kalimpong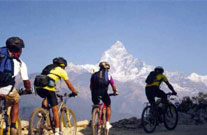 Once the Head Quarter of the Bhutane Gov!. Kalimpong'means 'The strong hold of the kings Minister'. But the lepcha meaning seems to be more poetic which means 'the ridge where we play'. Situated at an altitude of 1250 mts. Kalimpong enjoys the best climate in the region. Visitors are always pampered by the beauties of nature.The view of mountain ranges from Durpin Dara, Delo Hill, Golf Course, Mangaldham, Kalimata Temple, Rafting over at-Chitray, Dr. Grahams Home, Gouripur House, Tharpacholing and Zong-Dog-Palri-Fo-Brang Monatery and plenty !;rof local nurseries of Cacti & Orchids are never to miss.
Lava
A journey of 101 km. via Kalimpong and 111 km. via Gorubathan from Siliguri will take you far away from the maddening crowds, perched in the natures lap in the Eastern Himalaya to Lava a beauty spot at an altitude of 7200 ft. Surrounded by dense forest of Birch, Pine, Juniper with a variety of Cosmos, Orchids make Lava is more romantic. After a 12 km trek you can reach Jelepla and Rochela pass which has an incomparable scenic beauty situated at the tri junction of Sikkim, Bengal and Bhutan. Within 12 km from Lava, fascinating Changay falls with two sunrise points called Ghanti Dara and TIffin Dara are situated. Juluk, Kubuk and Rachela peaks in the Nathula range is clearly visible from here. Deep valleys, wooded ridges, snow peaks, passes, Lava Monastery, Nature interpretation center, beautifully located tea gardens are the spots for tourist attraction.
Lolegaon/Loleygaon-Kaffer/Kafer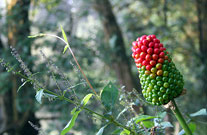 Another breathtaking place on the earth just 24 km away from lava, situated at 61000. above the sea level. You will cherish the scenic wonders of lolegaon in the backdrop of old growth forests rich in Epiphytes, the view of Ralli valley and the Himalaya range. A steady climb of 45 minutes from the centre will take you to the Jhandidara, one of the most fascinating sunset point which gives you a panoramic view of snow-clad peaks bathing in the golden rays of the sun. Explore the thrill of treks around Lava and Lolegaon and if you are adventurous enough, trek upto Rachila chak through the Neora Valley National Park-where Wild Boar, Deer and Bears are the main dwellers. The fabulous Heritage Forest with a beautiful hanging bridge from the ground to the treetops will give you a new dimension of life. The peaks visible from Lolegaon are Khang-Chen-D-Zongha, Pandim, Kabru, Siniolchu, Kong, Talung, Kumbhakarna, tome, Jopuno, Narsing, Pakichu and Simvo.
Neora Valley National Park
The picturesque landscape comprises of pristine natural forest, dense patches of Bamboo, Rho-Do-Den-Dron, lush green valley against the backdrop of Khang-Chen-D-Zongha. A jeep ride upto the 14 km. from lava and an 8 km. trek through the dense forest to Alubari (3200 mtr) and a brisk walk takes you upto Rachila Danda (Peak) at 10600 ft is the highest pI. of NVNP - a tri junction of W.B., Bhutan and Sikkim. NVNP is known for its extremely rich bio-diversity including Royal Bengal Tiger, Red Panda, Gaur, Himalayan Black Deer, Clouded Leopard, the very shy and most beautiful of the cat family - the Snow Leopard and the Marble Cat and Deer. Bird watching is added attraction of NVNP. White Capped Red Start, Blue Whistling Thrush, Small Green Bee Eater, LaughingThrush, Purple Sun bird, Red Jungle Fowl, Monal Pheasant, Kalij Pheasant, Blue Magpies and Fairy Blue Bird, Golden Oriole, RacquetTailled Drongo will make your trip worthwhile.
Rishyap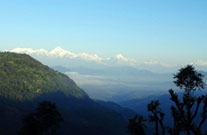 9 Km Jeepable road or only 3 km easy pleasure trek from lava leads you to a beautiful small hamlet Rishyap, nestles amidst the hidden hills of Neora Valley. The deep silent forest of Pine, Birch, Fir and Orchids with soothing path following the chirps of birus & the view of big sky on the lad of snowcapped Khang-Chen-D-Zongha is a special gift of Rishyap.The 300 degree visible mountain ranges you can find from Rishyap are (left to right) Mt.Kharg, Kokthang, Rathung, Kabroo (North, South, Dome and Fourth), Talung, Pandim, Khang-Chen-D-Zongha, Simvo, Narsingh, Siniolchu. Another two peaks alter these lie Khanchangyao and Panhundri - remains as the peridens between Sikkim and Tibet and just below it lies the glacier called "Khangse" which also happens to be the source of river Teesta. Clola, Nathula, Jelepla, Batungla - The Clola Range form the border between Sikkim and Tibet. Just behind these form 'La's lies the ' Chumvy Valley' which is in China.