::East Sikkim::
Gangtok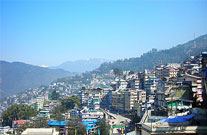 The capital of Sikkim - Gangtok (altitude 5800ft), an important tourist point on the busy trade route with Tibet (at one time) has become the base for tourists to explore sikkim. The Majestic grandure of the Khang-chen-zongha, the fluted pyramid of Siniolchu being just a couple of interesting point. The town's unique ambience derives from the happy blend of tradition and modernity. Alongside the deeply felt presence of stupas, Monasteries, the lush valleys, fast flowing rivers and terraced hills, Sikkim offers her visitors a rare and singular experience.
Place of interest in and around Gangtok are
Rumtek Monastery : A 40 mins drive out of the Capital takes one to the reknowned Headquarters of the Kagyu order of Tibetan Buddhism. At Rumtek Dharma Chakra Centre. [A close replica of the original Kagyu in Tibet] one can find some of the most unique art objects of the world.
Jawaharlal Nehru Botanical Garden
24km away from Gangtok (established in the year 1987) situated at an altitude ranging between 1800 mtrs to 2200 mtrs. It comprises of virgin temperate forest of oaks and as many as 50 different kinds of tree species.
::West Sikkim::
Pelling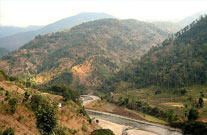 8 Situated at an altitude of 68000. it offers a good view of the entire mountain ranges and due to this location advantage, many hotels and lodges have mushroomed in and around Pelling offering various catagories of accommodation facilities.
Places in and around Pelling
Pemayangtse Monastery : One of the oldest monastery in the state, originally established by Lhatsun Chempo, one of the reverend Lamas as a small temple in the last 17th Century. This ancient monastery belongs to the Nyingmapa sect of Tibetan Buddhism and has been considered as one 01 the premier monasteries in the state having been entrusted with the task to perform all religious functions of the erstwhile Monarch. Situated at an altitude of 71001t., the main hall of the monastery has an area of about 1500 sq ft. Originally it was established as a high class monastery for "Pure Monks"(Ta-Sang). Inside the monastery there is a wooden structure depicting the Maha Guru's heavenly palace(Sang tok palri) which is considered a masterpiece created by late Dungzin Rimpoche.
Singshore Bridge/Uttarey : The higest bridge in Sikkim(2nd highest gorge bridge in Asia) situated about 2.5km.from Pemayangtse. About 20min. drive from here one can reach Uttarey, a base camp at Adventure Tourism for Singalila range trail.
::North Sikkim::
Kabi Lungchuk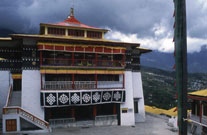 17km. from Gangtok amidst the cover of dense forest, this is a Historical place where treaty of blood brotherhood between the Lepcha chief Te-kung­Tek & the Bhutia chief Khey-Bum-Sar was signed ritually.
Phensong Monastery
Situated on the gentle slope stretching from Kabi to Phodong with perhaps one of the best landscape in the region. Built on 1721 during the time of Jigme Pawo, under the Nyingmapa order was gutted by fire in1947 and rebuilt in 1948.
Phodong Monastery
is a forest village with a primary school. The beautiful motorable road towards Kalamati cut through dense forests rich with wildlife. Plenty of peacocks can be seen there at dawn. 2-3 km. from Kalamati a Watch Tower at Chukchukia and a Deer Park newly opened for tourists.
::South Sikkim::
Rabong-La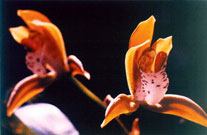 A small township and transit to various tourist destinations in South & West Sikkim, Rabongla(68001t) saddled on the ridge between the Menam(10,600ft) and Tendong(8500ft) peaks of the South District of Sikkim. Ravangla is situated on the state highway between Gangtok & Pelling and is an ideal destination to experience the rich culture & national heritage of Sikkim. 52km from Pelling, 65km from Gangtok, 120km from Siliguri, 134km from NJP.
Places in and around Rabongla
Namchi : Meaning Sky High nestled among the hills at an elevation of 5500ft., commands a panoramic view of the Snow-capped mountains and vast stretches of valley. It is also the H.O. of the South District. 78km. from Gangtok and 100 km from Siliguri. At children Park, Namchi one can see the rare species of Orchids in a riot of colors during the exhibition during February.
Tendong Hill : Above Damthang, overlooking Namchi there is a small flat stretch of land surrounded by lush Green ancient forest is Tendong Hill (853011.). Historically Tendong Hill is a place of recluse for Buddhist Lamas who spend years in meditation amidst the silent scenic grandure . Trek to Tendong from Damthang Bazar, the nearest roadhead, is just about 2 hours of casual walk.